National Open, Virtual Networking
Welcome to the Referral Accelerant Virtual Networking platform. I trust that once you attend one meeting you'll be hooked. These are 60 minute Zoom events with breakout sessions and drawings to facilitate the fostering of string business relationships. Your personalities will be drawn out as well as your business acumen. I have yet to meet someone who hasn't thoroughly enjoyed our meetings.

In attendance you will find business professionals from around the country. All small business owners are welcome.
NB: Beginning in May, 2021 there will be a nominal monthly fee to participate in these networking meetings. If you already have a digital business card from us, then your fee is waived. If not, you are welcome to attend for the fee of $19.95 per month to attend as many as 7 events each month. This is a referral based networking group geared to get business for those who attend. Visit this link to get started.

Our next networking event will be held on at . We ask that before you register you consider the RULES OF THE GAME. Just like our meetings, we take these rules seriously. We make every effort to attract professionals who are focused on helping each other. Once you've submitted your information, you will receive the link to the event itself.

NOTE: If you are not a member or a Digital Accelerant digital business card member, you will be directed to the signup page.


This networking group is founded on professionalism. Our reputations are built on those who we refer to our clients and/or prospects. If someone who we refer doesn't pan out or acts unprofessional in any way, that reflects poorly on us. So if you don't take this seriously, then we humbly ask you to find a different group to join. We ask that you abide by these rules or we may have to ask you to move on.
If you are driving in your car, wearing your camo cargo shorts, and all we can see is your right knee, this might not be the meeting for you. (Absolutely NO driving!!)
We know you love your animated virtual background, but it is very distracting to others. Please wear your static background.
If you are the type of person who loves to talk over others, go way beyond your allotted time to speak, and/or doesn't listen when others are speaking, then this might not be the right meeting for you.
If you have distraction after distraction and that's normal for you, this might not be the right meeting for you.
If you are shopping at Walmart during the one-on-one, and believe that turning the video off to not distract your colleague is a sufficient level of professionalism, then this might not be the meeting for you.
If you are in the breakout room, and turn off your audio and video to answer a phone call, then this might not be the meeting for you. (Children or spouse emergencies excepted.)
If you decide to move around while in a breakout room looking for a better spot to showcase yourself, this might not be the meeting for you. (Moving around is one of the worst things you can do, is complained about the most, and it only makes you look bad.)
If you turn your video off in a breakout room for any other reason than your audio is so bad that this action might unleash some bandwidth, then this might not be the right meeting for you.
The bottom line is if you cannot give us your undivided attention in the breakout rooms, then this meeting might not be right for you.
If your virtual background makes it look like your random body parts are flying across the screen, and you think that qualifies as professional, then this might not be the right meeting for you.
If you feel it OK to mass email or text each one of the registrants without having been in a breakout room with them, then this might not be the right meeting for you. (1st offense: you won't get the attendance list any more. 2nd offense: Banned from the group.)
If you are THAT PROUD of your ceiling fan that you have an urge to make us stare at it center frame for 90 minutes as it turns round and round, then this might not be the meeting for you.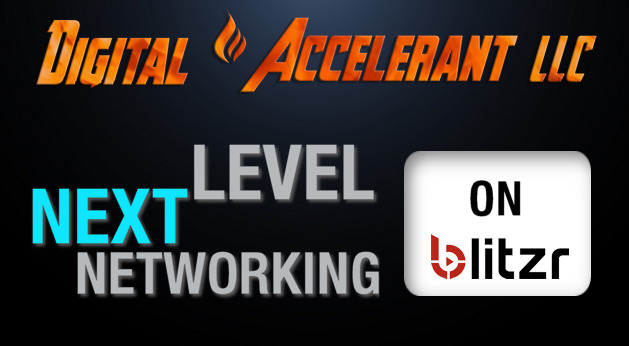 We have discovered a brand new platform that facilitates one-on-one meetings in an innovative way. Meet up to 7 new people during this incredibly valuable hour. Go to Blitzr.com, create your profile, then register for our event. Closer to the event, you will get text notices to remind you but all you need do is return to Blitzr.com when the event time is approaching and click the "Join Your Event" button.

If you have time, we encourage you to get familiar with the platform ahead of time by watching this video, and participate in an orientation event held every Friday at 2PM (Friday Blitzr). There is also a page called How to Blitz that gives out great tips on the platform.
Date: Wednesday, April 14, 2021

Once we built up a strong following in our networking events, people wanted to contribute. We select experts in their respective fields to give the rest of us pointers and tips to help us accelerate our businesses.

Welcome to the Knowledge Accelerant Webinar platform.
Zoom Proficiency and Professionalism
Leveraging Your Digital Card for Maximum Benefit



Another item being offered exclusively to our networking members is the ability to participate in a private Facebook group that uses the power of many to boost all of our social media profiles. On certain days of the week we post links to our social media content. Others support that content via likes, comments, etc. Each of us then goes through the other posts and supports them as well. Again, this is an exclusive offering to those who regularly attend our networking meetings.

To be able to take advantage of this offer, you must first attend at least two networking meetings, then watch this video in its entirety. If you do not do this, you will likely be confused and disrupt the group, letting others know that you didn't_ take the time to watch it. The video will instruct you on how to get involved.